---
Community Broadband Hub
A Community Broadband Hub is available at Little Easton Memorial Hall for use by residents and hirers of the hall. This is provided by Gigaclear as a community resource and delivers up to gigabit speeds. If you wish to use this facility, please contact the Bookings Officer who will provide you with the access code.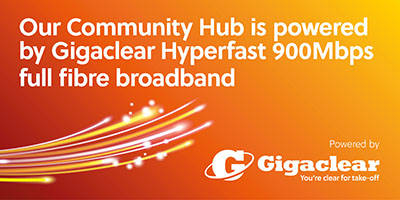 ---
Welcome
This Village Hall is located in the village of Little Easton, situated in the north-west corner of Essex a few miles north of the town of Great Dunmow. It was built in 1952 to commemorate the fallen of the village in the two world wars on land previously donated to the village by the Countess of Warwick's estate.
The Hall has recently been renovated. The old worn-out roof of asbestos sheeting has been removed and replaced with a slate roof. Additionally the hall has been rewired and the old 1950s lighting replaced with state-of-the-art dimmable LED panels. The interior and exterior of the hall have also been completely redecorated.
The Hall is located next to the village playing field where there is also a children's play area. A number of village organisations use the Hall on a regular weekly basis and it is available for hire by members of the community for private functions during daytime and evenings seven days a week.
Facilities available at the Hall are as follows:
Main hall of 110 sq. metres with seating capacity for 120 persons.
Full double glazing and gas central heating.
Large and small tables with chairs.
Associated bar area of 23 sq. metres.
Modern toilets accessible by disabled persons.
Comprehensively equipped kitchen with cooker, fridge, urn,
dual bowl drainer plus hand‑wash sink, crockery and cutlery.
Licensed for music, dancing and sale of alcohol.
Gigabit broadband via Wifi.
For more details about the hall and how to book it, follow the links shown on the left.